100% Accurate
The next level of quality comes from the blanking and forming department. We recognized where the weakness in the creation of a short run stamped part usually occurs. So we developed a proprietary method of holding the blank in place. This produces error free parts every time.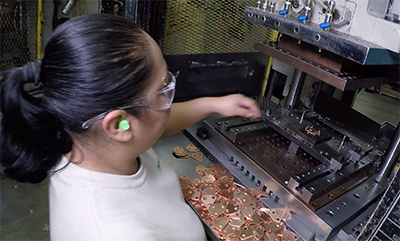 Our lifetime tooling is 100% accurate; not from just part to part, but from lot to lot. Die components are mass produced before you even place an order. We stock the raw parts to make your tooling and are able to pull them off the shelf, allowing you 4-6 week turnaround for your stampings. When your order comes in, most of the die components have been produced in volume and are on the shelf, cutting down the die making time.
Every part we make has its own dedicated die. We use no interchangeable or common die components.
Metal Stamping Services
Short Run Metal Stamping
The finest short run stampings start with low cost, lifetime tooling.
At Dynamic, building short run tooling is an art that combines traditional craftsmanship with the assistance of modern machines and methods, CAD-CAM, CNC machining centers and wire EDM.
Our many years of experience give us the ability to take cost out and build quality into your short run dies.
We will produce lifetime tooling for your job at a cost of hundreds, not thousands, of dollars.
Specialized Techniques
Every aspect of our production is geared to achieving the most efficient prototype and short run workflow. Our pressroom has developed specialized techniques and procedures which best accommodate part runs up to 50,000.
Standard tolerances for our production are ± 0.005 in. on linear dimensions and ± 0.0015 in. on hole diameters. We work in any material which can be cold stamped.
Most short run stamping jobs we run are in the thickness range of 0.010 in. to 0.250 in. Press capacity to 150 tons and maximum die capacity of 16 in. x 22 in.